WP1 – Materials operation conditions and their feasibility studies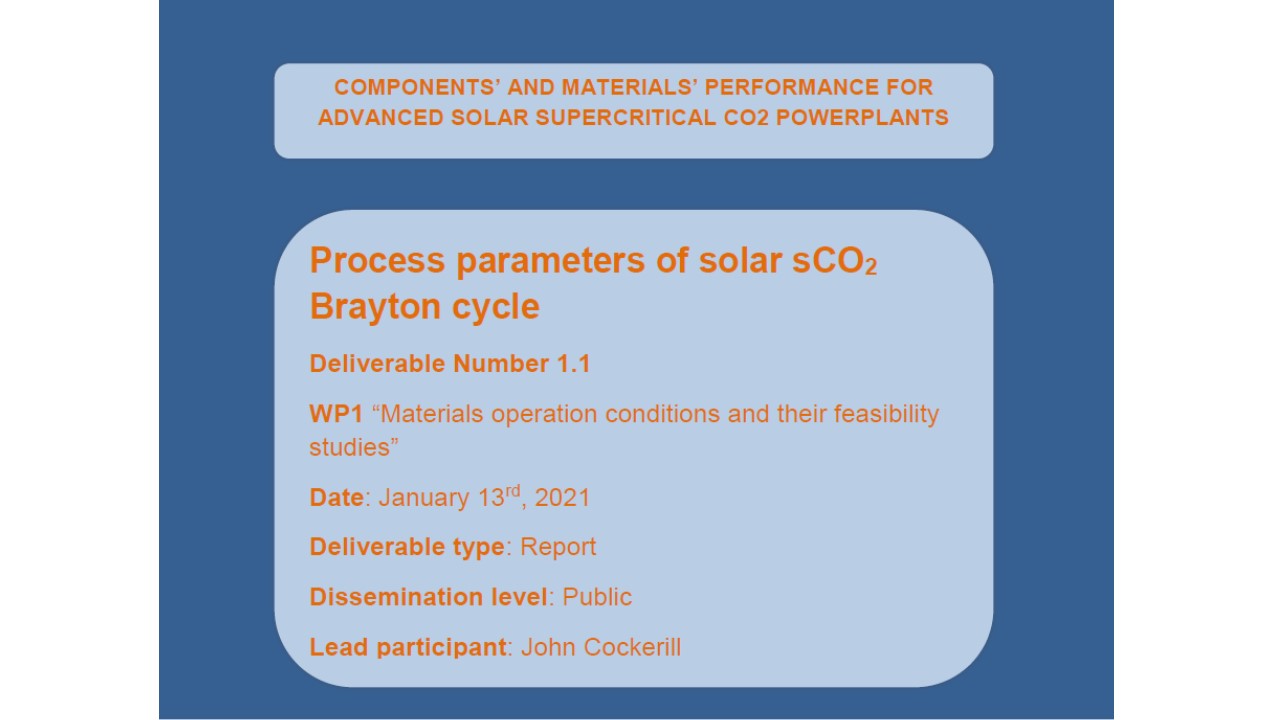 Deliverable 1.1 - Process parameters of solar sCO2 Brayton cycle
The goal of this deliverable is to fix the parameters relevant for the heat exchanger design (mass flow, temperatures and pressures). In order to obtain this data, a Brayton cycle needs to be selected. Because this cycle is not commercially applied yet, there are many options described in the literature. The supercritical CO2 Brayton cycle for COMPASsCO2 should have a very high efficiency, as this is one key requirements of the Work Program of this project1.
January 2021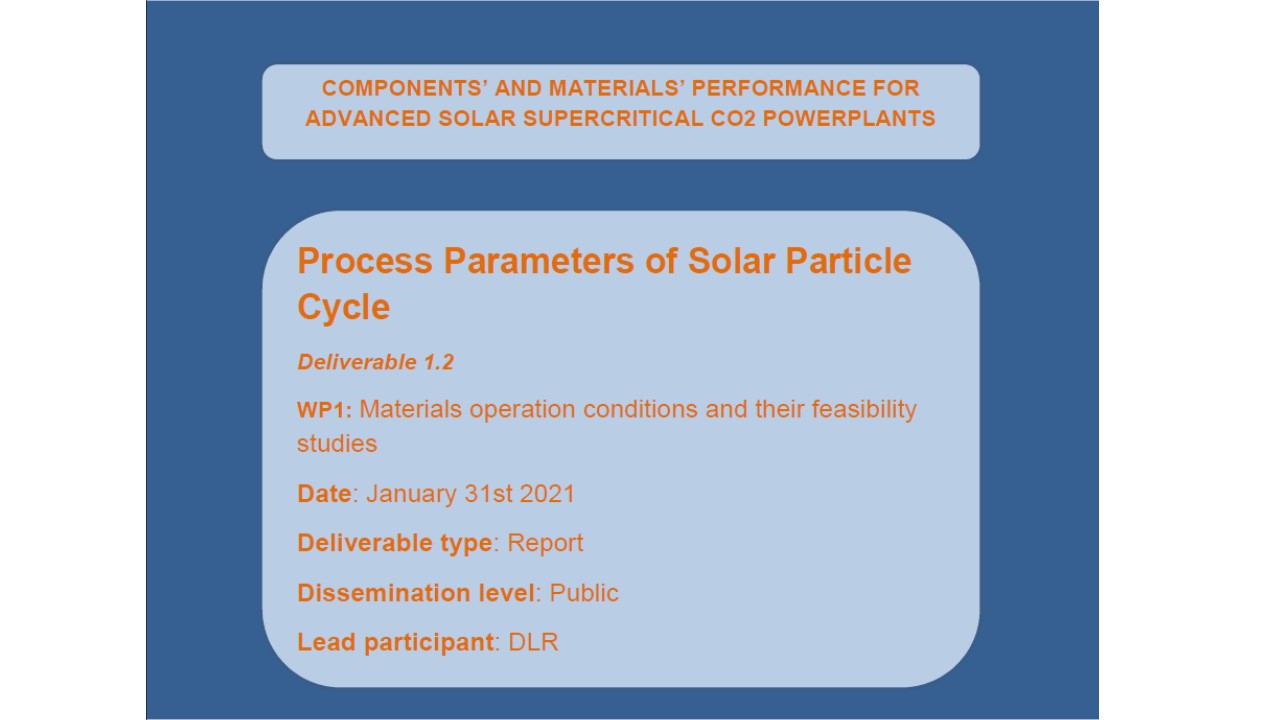 Deliverable 1.2 - Process Parameters of Solar Particle Cycle
The aim of this deliverable is to determine the operating conditions in the particle cycle, defined by the particle- sCO2 heat exchanger (HX), the solar field, the receiver and the thermal energy storage (TES) system. Under the second version, the heat exchanger design has been reviewed, namely sections: 3.2 (process parameters and technical limitations), 3.3 (material selection) and 3.4 (heat exchanger design).
March 2022
WP2 – Development and testing of particles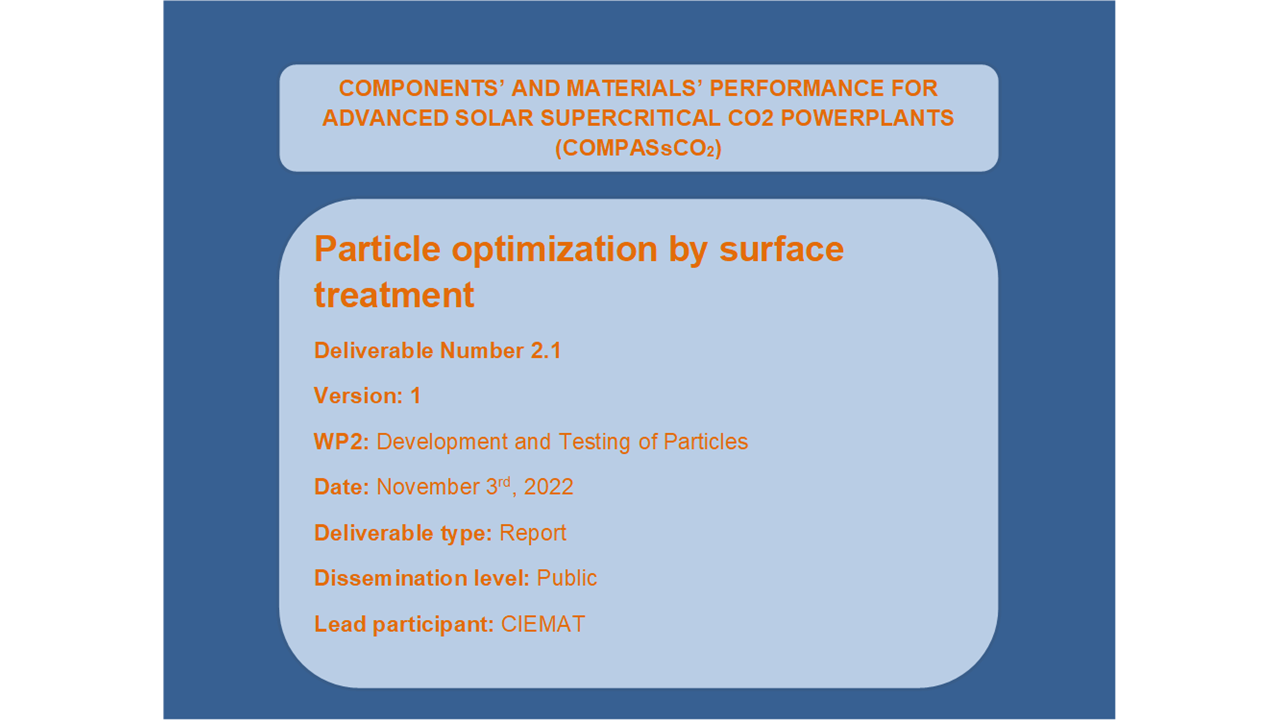 Deliverable 2.1 - Particle optimization by surface treatment
Four different techniques at three institutes were developed and tested on state-of-the-art and novel developed GEN3 particles. The initial optical performance could be improved in all the cases.
October 2022
Deliverable 2.3 - Testing and degradation mechanisms of bulk and optimized particles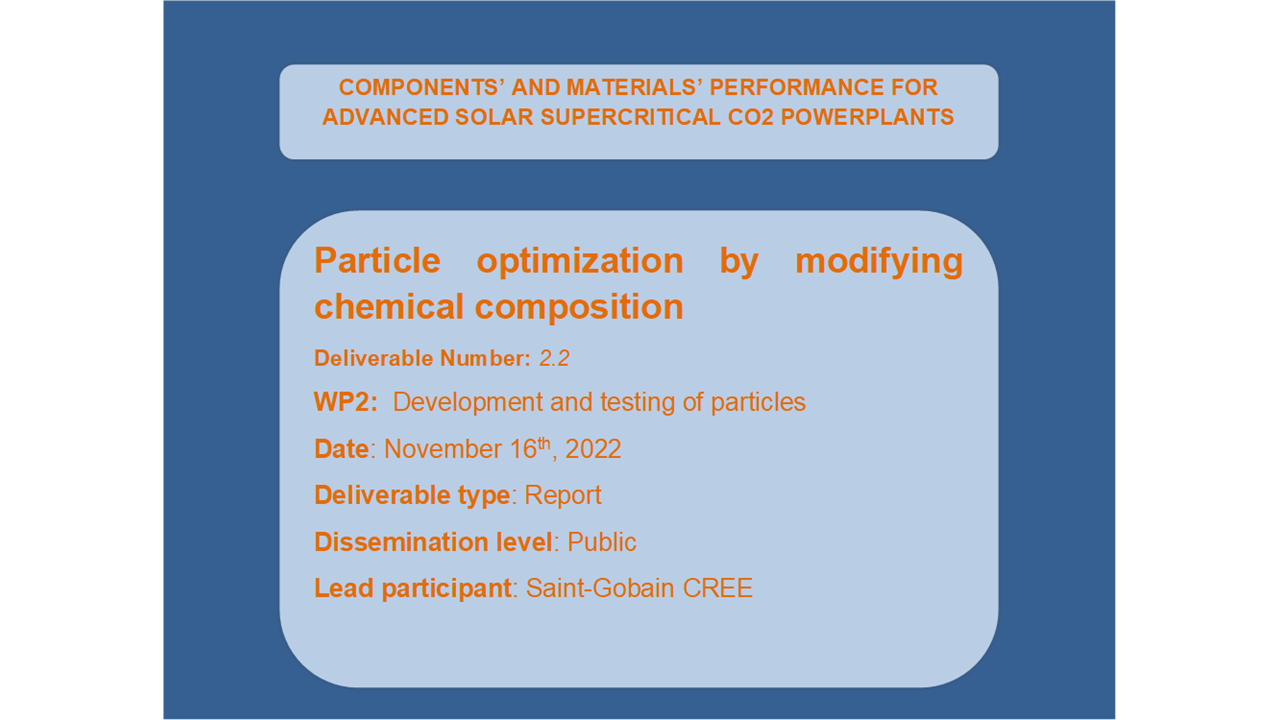 Deliverable 2.2 - Particle optimization by modifying chemical composition
Different generations of fused and granulated particles with improved mechanical properties were developed by Saint-Gobain and proposed to the partners. The granulated particles GEN4 present the best compromise in terms of performance versus cost
October 2022
Deliverable 2.4 - Lifetime prediction of novel particles and improvements beyond the state of the art
WP3 – Development of metals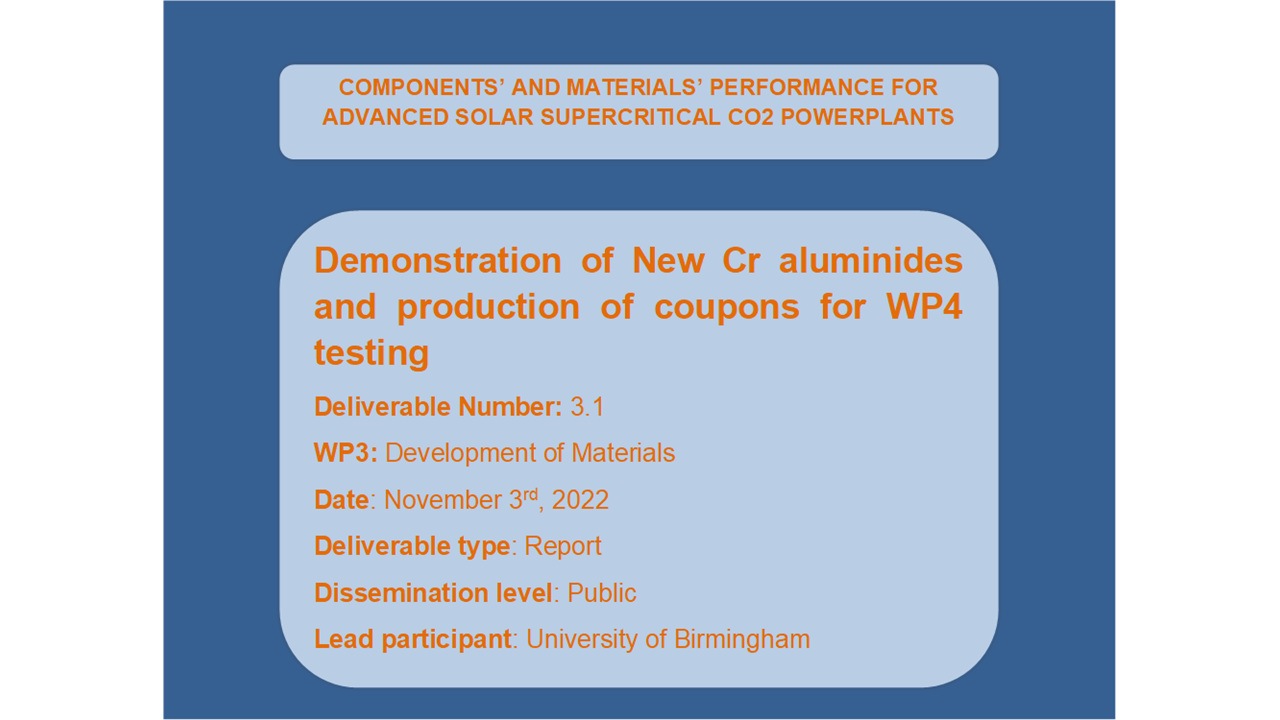 Deliverable 3.1 - Demonstration of New Cr aluminides and production as coupons for WP4 testing
Chromium-based superalloys are a desirable candidate material for the heat exchanger in the next generation of concentrated solar power (CSP). Chromium alloys appear to bear greater thermal stability over alternative high temperature materials such as nickel superalloys, cobalt superalloys and ferritic superalloys. Additionally, iron additions increase the hardness or the alloys and reduce age softening over their ternary alloy equivalent. Preliminary oxidation results show improved oxidation resistance of these alloys
October 2022
Deliverable 3.3 - Production of optimised steel / Ni substrates with advanced Cr aluminide/silicide coatings, coupons for WP4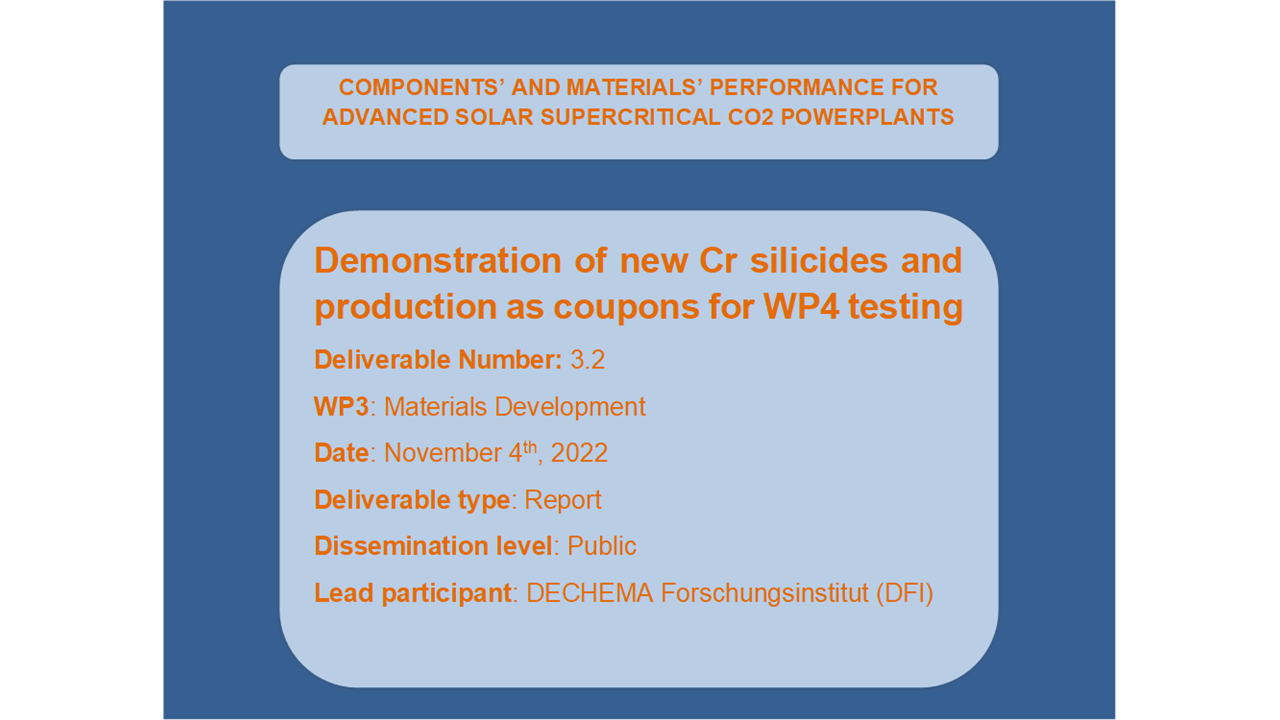 Deliverable 3.2 - Demonstration of New Cr silicides and production as coupons for WP4 testing
Cr-Si-alloys with a two-phase microstructure consisting of a toughening bcc-Crss-matrix and strengthening, hard A15-Cr3Si precipitates are promising materials for use in oxidative high temperature environments. However, Cr-Si alloys have some drawbacks, which are currently excluding them from any structural applications. The focus of the conducted investigations is the microstructure evolution and the influence of Fe and Ni. To investigate the influence of Fe and Ni to the DBTT and mechanical properties, compression tests at different temperatures were carried out.
October 2022
Deliverable 3.4 - Correlated modelling microstructure mechanical property understanding of the new materials
WP4 – Evaluation and modeling of metal/medium interaction
Deliverable 4.1 - Performance in oxidizing and carburizing atmospheres
Deliverable 4.3 - Models of the degradation mechanisms
Deliverable 4.2 - Wear and mechanical properties evaluation
WP5 – Technology validation
Deliverable 5.1 - Design summary of the commissioned particles loop
Deliverable 5.4 - Evaluation of heat transfer and performance measurements of the HX (Task 5.4) to be used in the industrial design done in WP1
Deliverable 5.3 - Design summary of the manufactured particles/ s-CO2 heat exchanger
WP7 – Communication, dissemination and exploitation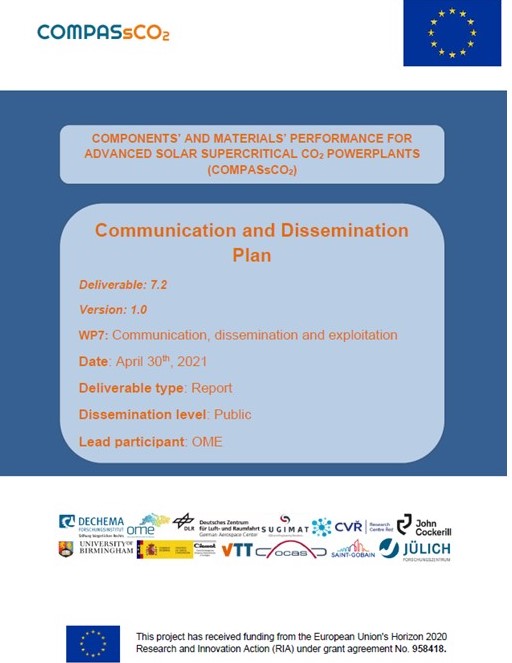 Deliverable 7.2 - Communication and Dissemination Plan
This deliverable outlines the communication and dissemination activities performed within the framework of the COMPASsCO2 project. Different aspects are covered, targeting both internal (between the project partner and the European Commission (EC)) and external communication with all project stakeholders, including EC obligations regarding H2020 communication activities.
April 30th,  2021